as promised, here's a report(in pictures) of what happened with my trip last week in Ifugao and Mulanay.i won't be going into the details since im STILL too tired to think right now.HAHA.i just want to let you guys see what amazing things i saw. :)






the breathtaking sunrise in Ifugao.yes, we were THAT high that the clouds were just below us.



Direk Ogi and Kuya Bok taking shots of the scene.btw,that's not THE Banaue Rice Terraces, but there were a lot of those kinds in Ifugao.it's as good as seeing the actual one.



the road was blocked because of a landslide so we had to walk by foot and left the van



Kuya Bok and Kuya Alfred were carrying those big bags the whole day!wait till you see how much WALKING we did.XD



interviewing a local Ifugao.i got to help holding one of those reflector things.XD at first i was excited but then because the sun was directly facing me, i didn't enjoy it that much coz we had to hold it for a loooooong time.XD Kuya Bok was always asking me if i was ok, more like trying to 'wake me up' coz he thought i was sleeping on the job.XD



more locals



they were doing this as a group while having a group interview.i think they sell these for chicken feeds.



the locals toured us in the farms so we had to walk up, down,up,down,up,down in the mountains.



i couldn't take much pictures of those long walks since i was veeeeeeerry exhausted and the heat was killing me!my chucks were muddy but compared to the crew's feet, their's were MUUUUDDDDDDDYY like hell.XDDDDD and may i just add, my chucks are white! they were still white when we finally got to the location.


we travelled then down to Mulanay, Quezon for the whole night and arrived there by lunch time.



at the day care center.that's Direk Ogi who amidst all that lack of sleep and exhaustion, is still smiling.behind him is the student's table which he joked about to be a 'catwalk'



indoor interview where i first got to watch an indoor interview complete with all the lights and stuff.that's my professor(ms pam), kuya alfred and direk ogi.



the Mayor.we also interviewed him and again i was there to watch.I remember during the interview, we weren't allowed to make any noise because it might get in the recording. so i was very careful with my actions and whispered whenever someone talked to me, Kuya Bok specifically.he was asking me about my pink nails and borrowing my camera but failed to take a decent picture.the best part was when his mobile phone made noise.XDDDD ah no! the best part was when the mayor's mobile phone kept on vibrating in the wooden table during the interview.XDDD Direk Ogi immediately looked at Kuya Bok, suspecting it to be him.XDD it was the mayor's after all.XDD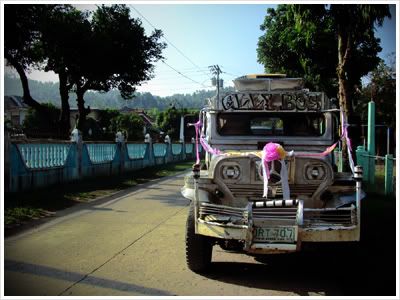 the next day we took more shots of the community.there was a town wedding so in the local church , there were lots of these 'bridal cars' or what we locally call the jeepney.it's my first time to see a jeepney used as a bridal car btw.XD



Mulanay has a beautiful beach were locals go to.but not like 'boracay like' were the beach is filled with people.their's is really untouched and unpolluted.when we went there, there were i think only 4 kids in the beach.and yes, i was soooooooo envious.XDDDDD



breakwater.you see how clean their beach is? this was another LOOOOOOOOOONG walk.



Direk Ogi taking a shot of the serene scenery.i could stay in that place forever.

did you notice that i didn't have any pictures? HAHA.i could only take pictures of my feet and my shadows.XDDDDDDDD at least this will be proof that i was there.

if only i could show you guys everything and tell you EVERYTHING.HAHA.my god, that would take forever.XDDDD anyways, if you guys have time/money(XD), do visit these wonderful places.i promise you, you'll have the time of your life.i'd love to go back there for vacation and not for work too.XD
Current Mood:

tired